Title: Broken Branch Falls
Author: Tara Tyler
Cover Artist: Ricky Gunawan
Publisher: Curiosity Quills Press
Release Date: June 2014
Series?: no
Genre: Middle Grades, Fantasy
Format: e-book
Source: Curiosity Quills Press

Find the book: Website | Goodreads 
*****Synopsis*****
Doing homework for bully ogres and getting laughed at as the butt of pixie pranks, Gabe is tired of his goblin life. When he and his friends step out of their nerdy stereotype and pull a prank of their own on the dragons at the first football game, it literally backfires, bringing a High Council vote to dismantle not only Gingko High, but the whole town, too!
The Book of Ages–hidden handbook of the High Council, filled with knowledge and power–may be Gabe's only hope. With the help of friends old and new, can Gabe complete his quest to find the Book in time to save Broken Branch Falls? Or will he remain an outcast forever?
 *****Review*****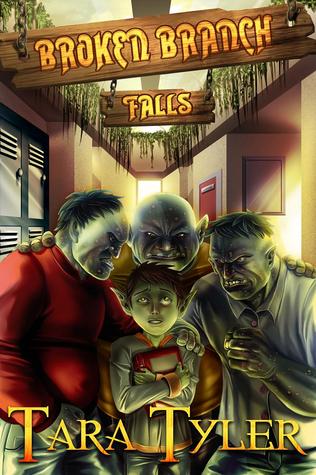 This book was awesome! It was an incredible read, with such an important message. Despite the cover, it is a book for both boys and girls.
Gabe is a goblin, stuck in a high school with other creatures. Each species is regulated to certain aspects of life, activity and creativity. Ogres are the only ones who can play sports. Goblins are the only ones who can play instruments. And inter-species fraternization is heavily frowned upon. The First Law states that species need to remain pure…
After one seemingly harmless prank, Gabe is assigned to play on the football team to see what it is really like. Unfortunately for the principal, Gabe likes it. He's good at it. And he makes up plans and the team actually wins some games…but that leads to Gabe and his ogre football buddies becoming friends…
When the High Council calls Gabe in for a special meeting, he and his friends are torn. Gabe wants to fight for Ginko High to stay together, but not all of his friends and schoolmates feel the same. It is up to the High Council to make all decisions, led by Gabe's professor, who has it out for Gabe.
Gabe just can't let the idea go of the town being split up. The last person he wants to talk to is his mother, but he finally does, and it ends up sending him on a journey with a mission all over the land, where Gabe meets a friend from each must sector – and each species! They must collect some particular items along the way, to aid in obtaining the book from which the High Council uses to set and follow the laws. Once they have the book, Gabe discovers a chilling reason why the species shouldn't fraternize – one that the High Council had been hiding for centuries….as well as the truth about the destruction of the human race.
I loved Gabe. He is a pretty amazing kid, and he doesn't just follow along with everything like sheep. In fact, he wants to think for himself, but in his world brainwashing is shoved downs students' throats. Gabe doesn't want to just follow the herd, and he doesn't understand why the species are regulated in what they can do. It doesn't make any sense.
Gabe's voice in the novel could not be more perfect. He was very real, down to earth, and humble. There need to be more kids like him in the world.
This was a great read, with plenty of adventure and variety in Broken Branch Falls. I'd recommend for ages 8-14.
*****About the Author*****
After having a hand in everything from waitressing to teaching math to rocket engineering, Tara Tyler now writes and teaches in Ohio with her three active boys and Coach Husband.
This Lazy Housewife loves to share advice on organizing, time-saving, and multi-tasking, in addition to popping out her multi-genre adventure novels in Science Fiction, Fantasy, Thriller, and Chick Lit, all laced with Humor.
So many exciting stories to tell!
Find the author: Website | Facebook | Twitter | Goodreads | Google Plus