Top Ten Tuesday is an original weekly meme feature created at The Broke and the Bookish. We'd love to share our lists with other bookish folks and would LOVE to see your top ten lists. For the list of past topics and future schedule, click here.
~~~~~~~~~~~~~~~~~~~~~~~~~~~~~~~~~~~~~~~~~~~~~~~~~~~~~~~~~~~~~~~~~~~
Top Ten Books I've Read So Far In 2015
The year is already half over? Already? Where has time gone? Wow.
I don't think I'm ready to be halfway through the year!
The Super Cowboy Rides ~ Daris Howard
This book is a great example detailing what it is like to grow up, giving young readers concrete examples of how to live the morals their family teaches and be a compassionate and kind person.
Timmy Johnson is the kind of kid you want to be friends with in grade school. He'll stick by your side like Crazy Glue and stand up for you when it's needed. He has a kind, beautiful heart for a young boy. However, he's the target of the school's gang of bullies. His only fault? He can't read, and his teacher treats him as if he is totally unteachable and stupid. (Each time a classroom scene came up, it made my blood broil!)
Timmy's life is filled with some exciting things, but school is not one of them. Timmy definitely has an imagination! He uses it expertly in church. 😉 He has plenty of siblings who help him get in or out of trouble, and he forges bonds of friendship with his dog and the little lamb he is gifted with.
Candle in the Darkness ~ Lynn Austin
Caroline's character is what makes this book momentous for me. Even though she is a Southerner, born and raised in the South, she doesn't see the institution and societal nuances of slavery as other Southerners. Instead, her character views slavery under a humanitarian microscope. She is strong and bold in the ways she can be, and I wholeheartedly loved her character.
This book does have a slight religious aspect to it, predominately through Eli's interactions with Caroline, but it is not overly preachy.
Baxter's Draw (Lockwood Legacy #2) ~ Juliette Harper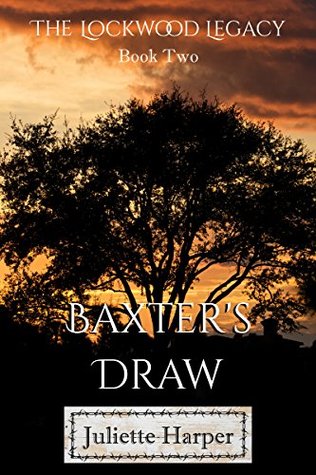 Baxter's Draw reveals A LOT of craziness that the Lockwoods' stalwart father, Langston, kept hidden from them their entire lives. The man they thought they knew as their father takes on such a complexity with the new discoveries, as well as some strange things that he did.
I enjoyed the relationships between the characters – as well as a new character added to the mix, to aid the sisters in how to protect and retain the heritage their father so carefully crafted.
Alice's Portait (Lockwood Legacy #3) ~ Juliette Harper
The novelty continues in the third installment, and the focus hones in on Jenny digging into her parents' marriage and their past. After what is revealed in Baxter's Draw, the girls continue to put together the pieces even though they know danger is lurking.
What I loved most about this installment is that the bond between Kate and Jenny, and the supports the men give to the three sisters. This book is all about relationships, and I loved seeing these aspects of the characters as individuals.
The First Fight (School for Adventurers #1) ~ Kara Loo, Jennifer Young
 It's like Hogwarts meets Looking for Alaska … but with thieves and warriors, too! Just like in HP, students range from every socioeconomic background, and being royalty or upper class has no bearing on placement within the school.
The characters – and there are a handful to keep up with – are what make this book so enjoyable, in addition to the thievery and other antics. The writing was wonderful and flowed well, the dialogue between characters was excellent, and the plot was fast-paced. I consider this a great read for everyone, from YA age into adulthood.
Frankie Dupont and the Lemon Festival Fiasco (Frankie Dupont #2) ~ Julie Anne Grasso
 It's Frankie. His antics and investigative style make the books, and this one is definitely having him chasing circles, which always makes for a good mystery. As soon as he ties up one point in the investigation, something else unravels. I loved sleuthing along with Frankie trying to figure things out myself.
The variety of characters and the interactions between characters is something I applaud in the Frankie Dupont series. There is never any room for boredom!
You Can't Get Blood Out of Shag Carpet (Study Club Mystery #1) ~ Juliette Harper
Alright, Juliette Harper has appeared three times on this list. Yes, her writing is that good to be worth checking out. This new mystery club series is a spin-off of The Lockwood Legacy above, comprising of "the old ladies" I mention in the review of Alice's Portrait. These women never leave anything upturned in their town, and they are hot on the trail of the latest crime.
This series is compromised of a strong cast of female characters who cloister themselves away from prying eyes to take care of their business, whatever it may be. Due to this, they have very strong and interdependent relationships, and the language, dialogue and thought processes reveal this. Like with Frankie Dupont, I was constantly sleuthing alongside the gals, and I took immense delight in the humor (and language used) in this first installment.
 A Batter of Life and Death (Bakeshop Mystery #2) ~ Ellie Alexander 
Jules is back! Well, really, she never left. She is still in Ashland, helping out with the family bakeshop, Torte. The season is now changing to fall, and the rile of the summer has started to cool off. Now, there is a television network pastry show coming to town to film a reality show on location, and Torte's kitchen will be used! What's more is Jules has the opportunity at the last minute to join the competition to compete for $25,000. That would definitely help update Torte! Until somebody needs to kill for that kind of dough.
The characters were so lovable in this second installment. I got to see so much more of Jules, and I could identify easily with how she feels about the relationships in her life. An all-around great read!
 Hope In Every Raindrop ~ Wesley Banks
The writing. Oh, the writing. This novel is a blend of new adult, romance and literary fiction with such seamless writing. Katie, the MC, is such an interesting person. I loved seeing her in the roles as a writer, daughter, and woman. Katie is a young writer – a young, repeated bestselling writer in a single year – but she has lost all inspiration for writing. When faced with an ultimatum, Katie follows in her father's footsteps to find her next story.
It takes one special Santa look-alike to help Katie realize the story she has traveled so far to write isn't quite what she expected. She thought she was writing about the Carolina grays – but she finds her story is about something else entirely. I wish there were going to be a second installment, but I don't think there will be.
 A Time for Everything ~ Mysti Parker
I didn't realize at first this was set during the antebellum era, which is a time period that I have always liked since learning about it in school. Who am I kidding? I just love U.S. history. Portia McAllister is suffering horribly after losing her child and husband to the ravages of the Civil War. At only 25, she decides to leave everything behind and make a fresh start as a live-in tutor. But she is a Confederate widow in a Union household. Her welcome into the Stanford household is far from welcoming, and her task of teaching is even more difficult. It's not the young Stanford boy that needs the teaching, though – it's his war veteran and widower father who is also suffering.
I adored this book! The growth in all of the characters is such a beautiful thing. Portia does find her place and her young pupil grows and glows under her tutelage. I loved seeing their relationship blossom.