This is a weekly meme hosted hosted by Sam @ Taking On A World of Words. To join in answer the following three questions and hop over to Sam's and leave your link.
---
What are you currently reading?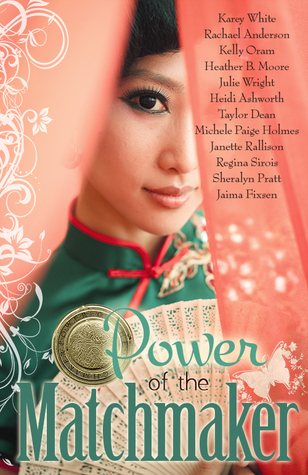 I have just picked up Power of the Matchmaker, which is a short novella that opens up a new series by a multitude of writers. The books will be published next year – one each month. Power of the Matchmaker Series that features one recurring character–the match maker–but it is a STAND-ALONE novel. You can find out more about the first book in the series, Broken Things to Mend, here.
---
 What did you just finish reading?
Hot dog, I am on a roll!
Two books this week!
I thought I would never finish listening to Beautiful Creatures on audiobook. I downloaded it this past summer free from SYNC, which gives away a free modern YA audiobook paired with a classic each week during summer.
I didn't know anything about Beautiful Creatures, other than I thought it had been made into movies or a show. I also didn't know how long the book was – over 500 pages! That's nearing Harry Potter and Outlander length, now! So I was surprised when it took me more than three significant chunks of time (hours and hours of blocked time) to listen to this book being read to me by a narrator with a smooth, clear voice.
I'm pretty stinking proud of myself, too, because thanks to the Blog Ahead Challenge, I am ahead! This will be my first review in February!
I also finished Light Fantastique, the second installment in the Aether Psychics series by Cecilia Dominic. This is the follow up to Eros Element, which plays a pivotal part in the second book and also takes partial credit for the title.
This book goes more in depth into the relationships and bonds that were loosely forged in the first book, and brings in a few new characters added into the plot. I kept asking myself about the mysterious benefactor who disappeared without a trace in the first book, and who seemed uncannily absent in the second. Then things started unraveling and the truth behind the events from book one started to emerge!
The secrets, suspicion, intrigue, and tête-à-têtes continue in this second book.
---
 What do you think you'll read next?
Next I have a handful of children's and MG books to read, including the next book in the Eclair series and the two most recent books in the Frankie Dupont series.
Eclair Goes Geocaching is the follow-up to Eclair Goes to Stella's and it seems Eclair has grown up a little bit! You can read my review of Eclair Goes to Stella's here.
When seven-year-old Éclair goes geocaching for the first time, she finds a treasure that isn't the one she imagined.
Young readers will discover what geocaching is all about through Éclair's journey with her eccentric grandma.
Frankie Dupont and the Science Fair Sabotage is the third book in the Frankie Dupont series. I have read the first two and thoroughly enjoyed them, so why stop at two?
Frankie Dupont is less than impressed when he has to attend the Sustainable Science Fair with Kat and Amy. Upon his arrival, he learns that Amy's brothers have had their robotics chip stolen.
Keen to recover the chip, Frankie questions the kids in the competition, but everyone seems to have a motive.
When baffling clues start rolling in via "Snap-Goss" instant messages, Frankie realises it will take all of his detective muscles to solve this case.
An illustrated mystery for ages 8-12.
Frankie Dupont and the High Seas Heist is the fourth book in the series. Why stop when you've got a good thing going on?
Frankie Dupont seems to catch odd-ball cases in the most unlikely places. You would think he would be used to it by now.
When his next case lands him on a luxury cruise liner full of devious chocolatiers with ulterior motives, Frankie will be expected to solve the crime, even before it's committed.
Although his mind is certainly up for the challenge, Frankie realises his stomach is yet to find its sea legs.
If you would like to learn more about books 1 and 2 in the series, here are the links to my reviews:
Book 1 – Frankie Dupont and the Mystery of Enderby Manor
Book 2 – Frankie Dupont and the Lemon Festival Fiasco 
---
 How about you? What are you reading this week?
Leave a comment with your answers! Share the link to your WWW Wednesday post OR leave your answers in the comments if you don't have a blog. Happy Reading! 🙂