My Favorite.. is a weekly meme hosted by Maureen's Books. In this meme, we share every week something we love with each other. Because let's face it…The world can be a dark place and it's time to share something positive.
---
Book Blog To Visit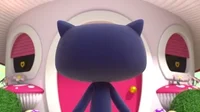 Nooooo! Don't make me pick one favorite.
This stinks, guys. I don't like this game.
OK, I picked two. That's good, right? Close enough.
Click on each banner to be taking to these lovely ladies' blogs. I've been keeping up with Katherine @ I Wish I Lived in a Library for a while, and the same with Lark @ The Bookwyrm's Hoard. I love checking in on them each week and see what's going on, and Katherine has some of the best Top 10 lists ever. Lark also includes a weekly News & Notes post that features book, publishing, and other related news. I often find a little nugget in those that strikes me or catches me unaware. I don't keep up with the twitter world, so I never know what's going on.