The Sunday Post is a weekly meme hosted by Kimba @ Caffeinated Book Reviewer. It is a weekly news post to recap the past week on your blog, showcase the books and other goodies you've received, and share news about upcoming events on your blog. Be creative and personalize it! To get in on the Sunday fun day, see the rules here: Suday Post Meme.
---
Thank you for all the sweet wishes and encouragement these last couple weeks. Baby is back to her normal Eeyore self. She also thinks the new roommate is her boyfriend. She's in love with him.
This was a short week with being out of the classroom Tuesday to write district assessments, my kids reviewing on Wednesday, our unit test on Thursday, and being off for Good Friday. Despite the short week, the ick has returned. I once again have an ear infection – if the one last month ever really went away. I have had a puffy, itchy face, runny and stuffy nose (how is that possible??), sore throat. Even my eyes hurt. I could barely keep awake on Thursday I felt so miserable. I have more meds and they had damn well better work because I can't see the ENT until mid-June.
Thursday afternoon my grandfather passed away. If you haven't been with me for a few years, he fell in 2013 and broke his femur. He was 75 then. He basically gave up on life and signed his power of attorney over to my mom's youngest brother and his wife, who have been cashing in his 6K retirement checks each month. They completely brainwashed him and he legitimately believed they were the only ones in the family who would care for him. The two of them were extremely ugly and my mom and the other 4 siblings have had numerous appointments with attorneys over the years. My uncle stupidly thought that he could have my grandpa sign over my grandmother's separate property to him and he was going to sell all the land and run off with the money. He learned that is not how it works and then became threatening and terroristic toward the rest of the family. It has been extremely strained and I haven't seen my grandfather since about 2014 when they put him in a horrible nursing home and then weren't happy with losing so much of his retirement checks. It hit my brothers hard, especially my oldest brother. He was the golden child and spent all his life alongside my grandpa. My aunt and uncle weren't even going to notify the rest of the family. It just so happened that my brother went over to visit my grandpa and found out. My middle brother was sent home by the Red Cross to be here with us. My mom keeps asking me how I feel, and honestly, I don't know. He is not the man she knew as a father, and he isn't the man who I grew up with. It's like he died a long time ago when he turned his back on the rest of our family. I don't have anything to connect to him anymore, and that is the choice he made. I don't know what the coming weeks and months will bring with him now gone in terms of what my aunt and uncle will do, but the groundwork is already in place to keep them from doing their stupid shenanigans and disappearing like thieves in the night.
I also did something totally out of character and extremely spontaneous. I went on my FIRST DATE in nearly FIVE years. On the day I was asked! I was nervous but excited but nervous. When I was in college I ended up with a sexually harassing stalker after a first date, so I try to feel out before going out with someone. I jumped in with both feet and it was a great date. He is German and has been in the US for over three years on a work visa. It was fun and no pressure.
I have done some more rearranging and pulled my jewelry out of storage. I set it up Friday night so the next project on my list is getting the printer up and running. Only problem is I can't find any of the cords.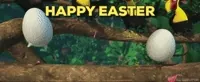 I still did absolutely no reading this week. I think I am in a slump but won't admit it. I really want to read and like this book, but I think I just have too much LIFE going on right now. I also did absolutely nothing on the blog this week, and now I am down to only 3 scheduled posts. I have got to get things kick started or I'll be going on hiatus for a little while.
Sunday
Monday
Tuesday
Wednesday

WWW Wednesday
My Favorite ~

Friday

Monday
Tuesday

Top Ten Tuesday ~ TBD
Teaser Tuesday & Intro ~ TBD

Wednesday

WWW Wednesday
My Favorite ~ TBD

Thursday

Friday

Book Blogger Hop ~ 4.6.18
Check back soon!