Top Ten Tuesday is an original weekly meme feature created at The Broke and the Bookish. We'd love to share our lists with other bookish folks and would LOVE to see your top ten lists. For the list of past topics and future schedule, click here.
---
Books I Feel Differently About Now that Time Has Passed
There are books that change us as a person. It may happen the moment we read them. It may happen gradually over time as we reflect back on that book, or pull it out for a re-read.
And then there are books that we change our feelings about. We love it a little bit less, or a little bit more. Our feelings are mixed and complicated. Or we're just indifferent to the book in general.
Books I Love Even More Today 
You know how people – married people – make comments about how they love their spouse even more today than when they met? This is kind of how I feel about these books. They have grown on me and burrowed into my heart even more than when I first read them.
In the spring of 2011, I was required to read John Green's Looking for Alaska for my adolescent literature course in order to get my teacher certification. I have made comments over the years since starting this blog about why that book is important to me. Recently I talked about the new feature I started this year and why. I've talked about this book in many posts before, from those that get me feeling nostalgic, to my own ado lit syllabus reads, to good friendships. This is a book I have always been very careful about pushing to others because of the topic.
I read this book about six months before the oldest male grandchild on my mother's side committed suicide. He was the only son, and had two very young sons of his own.
This book never would have even been considered as a reading choice after Ricky's death. I thank all my lucky stars that I was assigned to read this before.
My love for this book has grown exponentially over the years. In the days and weeks and months following the loss of my cousin, I scoured this book. I went back and furiously read sections trying to find answers, just as Pudge and the Colonel are trying to find answers.
Not only did I love the friendships in Looking for Alaska, I loved the fun they had. It very much reminded me of my cousin's childhood. He would have fit right in with Pudge, Alaska, and the Colonel.
I read Wild Bells to the Wild Sky for the first time at age 12 or 13. It sucked not being able to get books in the summer, and my mom's romances were all that was available.
The reason I loved this book then – and even more now – is because of the storytelling. It is amazing. Each time I read it I notice a small thing I didn't before. There are really two storylines that intricately overlap throughout the book, being the source of an unknown danger and threat.
Lily has lead an interesting life since her father's galleon was shipwrecked all those years ago. Even after her rescue and return, Lily's life has been shaky. I mean, I'd be coming up with a plan to escape "accidental death" incidents, too.
The second storyline is much more intricate and delicate. It all started years ago with a story her mother told her when they were stranded on the island. There's just one problem: it's not a story. The characters are real, the plot is real, and the danger is unbelievably real. Lily holds the power to allow that story to play out as she was told it would, or to stop it. Only, she doesn't even realize it's more than a story.
In the end, I stole this book from my mother. I have read it so many times the back is crumbling apart. It's only a matter of time before the front cover completely goes. I appreciate this story and writing so much more now than I did 15 years ago. It is a story that has stayed with me all these years.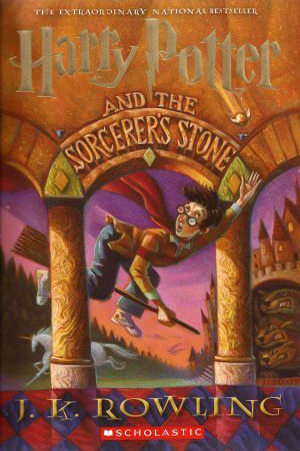 I'll admit it. I didn't get what all the craze about HP was about when I grew up. OK, magic. Cool.
But it is so much more than that. So much.
It's been three years since I read the series entirely, but I will never forget the story. The stories of love and sacrifice that emanate from this book are everything. The friendships are strong and lasting. I love these aspects of the book.
The love I have for these books and what they have made me think about over the years means more to me than the amount of money J.K. made from them. These books make me want to love stronger, harder, better.
I hope I am as deserving of a love as all of these characters loved Lily.
I first stumbled upon Allie Brosh's blog. I scoured it and had a million laughs, and then I'd go back and do it again. She is hysterical. Despite being able to write humorously, she also shows the dark side of depression in Hyperbole and a Half.
I have had several family members and friends struggle with depression in the last 10 years. I am much more aware of this today than before. I have even found myself funneling down a hole of depression. Mine is much more stress and relationship based, but I know when it's there.
Before I found this just a hysterical read. Now I value the small insights that Brosh gives. I know a little better how to interact with those in my life struggling with depression. It's made me want to do my own research to learn more.
Books I Love a Little Less
The Next Thing on my List and Geist grabbed me when I first read them, but now I'm just"meh" about them.
Gabe's Plan. Gabe's just crazy.
Glimmers lost its glimmer over the years. I remember feeling so strongly about the story, but honestly it's hard to remember it now.
I RAVED about Lost on the Edge of Forever. I mean, I raved. Now though, it doesn't seem so amazing. The same with Hearts in Exile.
Books I Still Feel the Same About 
These books were all duds when I read them the first time, and I still feel exactly the same about them despite the time that has passed.