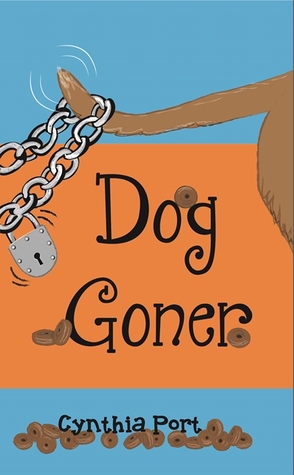 Title: Dog Goner
Author: Cynthia Port
Release Date: April 2013
Length: 248 pages
Series?: Kibble Talk #2
Genre: Middle Grades

Find the book: Goodreads | Amazon
Secrets will be revealed! Fondest wishes will be fulfilled! Permacrud will be . . . what the heck is permacrud, anyway? Find out in Dog Gone Dinky, the second book in the hilarious Kibble Talk series. Tawny and Jenny, along with their dogs Dinky and Gunner, have set themselves on a mission – or really, three missions. But there's someone else with a fondest wish, and they'll do anything to get it. Can Dinky save the day before he becomes a dog goner? Dog Gone Dinky is a fast moving and funny fiction story perfect for readers aged 7 to 12 or as a read-a-loud.
***** Review *****
The Skinny
Tawny is at it again! In the second installment, her parents are now hot on the adoption trail. Tawny's friend Jenny has now been welcomed into the Kibble Talker fold and she is hot on the trail to discovering how to become one. Jenny wants to find a victim to experiment on, but Tawny is terrified that someone will use their powers for evil. In the meantime, Jenny is stuck doing portraits for Sandra and her dog Buster while her brother suddenly turns into an interrupting cow during each session. Renselear Higginbotham, a shop owner at the mall, tries everything possible to get Jenny to draw his portrait. He is slimy and creepy and weird and not very nice, and the girls cannot seem to escape him. There is definitely something he wants from them, and he will stop at nothing to get it. Tawny and Jenny are the key.
The Players
Tawny – a typical twelve-year-old with a secret
Dinky – Tawny's Great Dawn who thinks he is a lap dog
Jenny – Tawny's very outspoken best friend; she is also an excellent artist
Gunner – Tawny's DIRTY dog whose only wish is to be clean
Fitz – a strange classmate of Tawny's and Jenny's that they sort of befriend
Zach – Jenny's older brother who is always interrupting her portraits
Sandy – a beautiful girl Zach is in love with; her family owns a pet salon and school
Buster – Sandy's old dog who is overly pampered
Renselear Higginbotham – a strange and creepy man who owns a cats and dogs figurines shop in the mall; he wants something from Tawny and Jenny
The Quote
 Dinky had pointed this out to me when I couldn't understand why my parents thought I didn't want a sibling. He said we humans don't ask the important things right out. We ask things sideways instead and then look for clues.
The Highs and Lows
+ Jenny. She is brutally honest and upfront, and I appreciated that in a character so young. She does not stand for anyone to bully her or treat her as inferior. There were many times Jenny spoke up when Tawny remained silent. She also does a lot of the talking when they get into "situations."
+ Dinky. He cracks me up. Although he seemed more tame in this installment, there were still plenty of times when Dinky's sarcasm came right on out. He was definitely some comedic relief. He is also very wise and sees more about his loved ones than he lets on.
+ Fitz. Fitz is a weird and strange kid that most people at school try to ignore. He is obsessed with the hobo lifestyle and living light. Then he switches gears with his bragging rights about being wealthy, rolling into school in a Hummer. His other vehicle is a yatch. Besides the whole hobo/rich thing, Fitz is a pretty quiet kid that flies under the radar.
Higginbottom. He was the perfect type of villain. He was slimy and creepy and nauseous. Of course I didn't like him, but he played his role well. He was also very evil. At one point (and then onward) I would even say he was cruel. Utterly cruel.
The Take-Away
This is a crazy train! Kibble-eating kids, dialectical dogs, harping hobos, adoptions, creepy creepers, death wishes, and kidnapping. There is so much going on that it hits the high notes.
Recommendation – Buy, Borrow or Skip?

 
Borrow it! It's well worth the read and is entertaining and enjoyable.