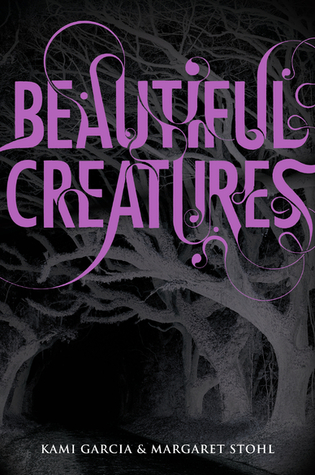 Title: Beautiful Creatures
Author: Kami Garcia & Margaret Stohl
Publisher: Little, Brown and Company
Release Date: December 2009
Length: 563 pages
Series?: Caster Chronicles #1
Genre: YA, Fantasy, Paranormal

Find the book: Goodreads | Amazon
Is falling in love the beginning . . . or the end?
In Ethan Wate's hometown there lies the darkest of secrets . . .
There is a girl. Slowly, she pulled the hood from her head . . . Green eyes, black hair. Lena Duchannes.
There is a curse. On the Sixteenth Moon, the Sixteenth Year, the Book will take what it's been promised. And no one can stop it.
In the end, there is a grave.
Lena and Ethan become bound together by a deep, powerful love. But Lena is cursed and on her sixteenth birthday, her fate will be decided. Ethan never even saw it coming.
***** Review *****
The Audiobook
This was an audiobook I downloaded last summer from SYNC. It is narrated by Kevin T. Collins and Eve Bianco. It was paired with Daphne du Maurier's classic Rebecca. Collins is the primary narrator and was very enjoyable to listen to. Usually I have issues more with the narrators and I tend to not get into the stories, but Collins was the exact opposite. His smooth, clear voice let the story flow and I absorbed each moment of it.
The Skinny
Ethan Wate wants nothing else but to be different, and to get out of Gatlin, where he has lived his entire life.
Lena Duchaane rolls into town visibly different and already targeted as the outcast.
Everyone knows word travels quickly when there's something or someone new coming to town, and that is exactly what happens when Lena Duchaane drives into town in her uncle's black hearse. The town shut-in hasn't been seen in ten years, making the townsfolk feel either sorry or suspicious when Lena appears.
Ethan and Lena discover some rather odd occurrences and connections, and as time goes on and their friendship strengthens, they uncover an archaic and unsettled family feud. The family history woven throughout the book accentuates the plot and backstory of the Casters.
Ethan's connection to Lena protects her from dangers of the Dark while she must choose a side to live by before she turns sixteen.
The Players
There are a wide array of characters in Beautiful Creatures and they each make their own contributions to the plot. Below are those I consider the more important characters who have larger roles to play.
Ethan Wate – a 16 year-old basketball player who loves chocolate milk; can communicate telepathically; somehow has the ability to protect Lena from powerful magic and dark casters
Amma – a Seer who is like a grandmother to Ethan; she raised his father and now raises Ethan; well-known for her cooking; superstitious and believes in charms; strongly dislikes Ethan's relationship with Lena
The Sisters – Ethan's three great-aunts whom he visits weekly; they are deeply religious and know everything about Gatlin; they have an impact on Ethan
Link – Ethan's best friend who wants to be a rockstar; he creates his own music and remains loyal to Ethan when he befriends Lena and is shunned by the school
Marian Ashcroft– Ethan's mother's best friend who is also the librarian of the Mortal and Caster libraries; she rues the fact that she cannot help Ethan because she is bound by Caster rules
Lena Duchaanes – new girl in town who appears in Ethan's dreams before arriving; relative of the town shut-in; very different and an easy target for ridicule; can telepathically communicate with Mortal Ethan (a rarity)
Macon Ravenwood – Lena's reclusive uncle; likened often to Boo Radley; he lives off of others' dreams
Hunting Ravenwood – Macon's dark brother who feeds off of blood to retain a youthful appearance
Aunt Del Duchannes – Lena's time-traveling Caster aunt
Ridley Duchannes – Lena's Dark Caster Siren cousin; daughter of Aunt Del; possess abilities to manipulate others with a lick of her lollipop; works for Sarafine and dates Link
Reece Duchannes – Lena's Sybil cousin; daughter of Aunt Del; can read emotions and thoughts of others as well as distinguishing truth from lie
Ryan Duchannes – Aunt Del's younger, unclaimed daughter; can heal people and has "light"
Larkin Kent – Lena's cousin who is an illusionist and transformist; son of Aunt Del; his choice of Dark or Light is kept under wraps for most of the novel
Sarafine Duchannes – Lena's Dark Caster mother; the strongest Dark Caster (a Cataclyst); tries to convince Lena to join her
**Genevieve Duchannes – the Caster who cursed Lena's family by trying to bring her dead fiancé, Ethan Carter Wate, back to life using the Book of Moons
**Ethan Carter Wate – Genevieve's fiancé who died when he was shot during the great burning of Gatlin
The Quotes
Mortals. I envy you. You think you can change things. Stop the universe. Undo what was done long before you came along. You are such beautiful creatures.
The Highs and Lows
+ Ethan. He is a wanderer in his small hometown, and very characteristic of the-boy-next-door type. He wants to live for something different, to be different, to find something meaningful. Everything is the same in Gatlin, and he wants more. When he gets it in the form of Lena Duchaane, he has to face the fact that he might be like everyone else in town and must overcome his own internal struggles to get closer to Lena and understand her.
+ Male POV. Ethan's POV lends a certain quirkiness to the story, as he is a bit quirky himself.
+ Characterization. The co-authors chose their characters purposefully for their roles in Gatlin. Most have depth and breadth to their natures, their good points and their flaws, creating three-dimensional characters.
+ Southern setting. The strong Southern culture and smalltown feel of Gatlin are integral to Ethan and Lena's story. The Southern drawl is apparent, the Civil War has been renamed the War of Northern Aggression (which is also reenacted), and Southern stereotypes abound. It is an old-fashioned place where nothing ever changes or happens there. As is with all small towns, it appears there are no secrets, but the reality is that it is the perfect culture for them to flourish. The setting does present a certain attitude towards Southerners, but the setting is used to show how easy it is to be an outcast and condemned for who or what you are.
+ Mortals and Casters. Ethan is a Mortal and Lena is a Caster. They have tangled together for over a hundred years and have a very distinct history thanks to Genevieve Duchannes' love for Ethan Carter Wate. There are often flashbacks that Ethan and Lena experience from their lives. Typically, Casters cannot have such connections with Mortals like Lena does with Ethan.
+ Dark and Light. There is black magic and white magic, Dark and Light, which signifies the trope of good vs. evil, and it is very alive in this book. It plays a monumental role in the plot and the wider cast of Lena's family.
– Ethan. In some ways, Ethan perceives and presents himself as faultless, and degrades his town and its people. It opens up the questions about intelligence and morality.
– Length. The length of the book was a bit of a drawback. At nearly 600 pages, I was expecting something with a tad more pizzaz. This is a book you definitely have to find the time to read and devote your attention to so you don't miss something important.
The Take-Away
I liked Ethan's POV. Although there are drawbacks of having a male protagonist, I don't think the book would have held the same power if told from Lena's POV. Ethan's voice lent authenticity and life to Lena and the world of the Casters.
Recommendation – Buy, Borrow or Skip?

 
I recommend borrowing or even listening to the audiobook if you're unsure and want to try this one out to see if you like it.
Otherwise, I recommend buying the book!
***** About the Authors *****
Kami Garcia is the #1 New York Times, bestselling co-author of the Beautiful Creatures Novels & the Dangerous Creatures Novels, and the author of the instant New York Times bestseller & Bram Stoker Award nominated novels UNBREAKABLE & UNMARKED in the Legion Series.
Kami grew up outside of Washington DC, wore lots of black, and spent hours writing poetry in spiral notebooks. As a girl with Southern roots, she has always been fascinated by the paranormal. She's very superstitious and would never sleep in a room with the number "13″ on the door. When she is not writing, Kami can usually be found watching disaster movies, listening to Soundgarden, or drinking Diet Coke.
Kami lives with her husband, son, daughter, and their dogs Spike and Oz (named after characters from Buffy the Vampire Slayer)
Find the author: Website | Facebook | Twitter | Goodreads
The #1 New York Times bestselling author Margaret Stohl got her start as the head of theDark is Rising fan club in third grade in a highly gifted magnet school in Los Angeles. Going on to study at a creative writing program at UEA Norwich, England, and to write and direct an autobiographical one-act play at Amherst College—where she founded the school's first women's literary magazine, Madness This—Margaret knew she was a writer.
After optioning two feature screenplays to Nickelodeon Pictures and Clasky-Csupo, Margaret began a sixteen-year career in videogames, co-founding 7 Studios game developer with her husband Lewis Peterson, and contributing to both Marvel's Spiderman (ActivisionBlizzard) and Fantastic Four (7 Studios / ActivisonBlizzard) among many other titles—Dune 2000; Command & Conquer Red Alert Retaliation; Pirates of the Caribbean The Curse of Jack Sparrow; to name a few.
When Margaret co-wrote the first of the internationally bestselling Beautiful Creatures novels (published in nearly fifty countries, named Amazon's top teen book of 2009, short-listed for the ALA's 2009 Morris award, and released as a feature film from Warner Brothers) on a dare from her three daughters, she fell even more in love with teen culture. Her first sci-fi series, Icons, is now in development as a feature film with Alcon Entertainment, and her forthcoming Black Widow novel from Disney Publishing is a welcome chance to rock a strong female character and to return to her beloved Marvel roots.
Margaret lives in Santa Monica with her husband, who builds drones and robots, and her three daughters, who are competitive epee fencers—and who, like Natasha Romanov, have always known how to rescue themselves.