This is a weekly meme hosted hosted by Sam @ Taking On A World of Words. To join in answer the following three questions and hop over to Sam's and leave your link.
---
What are you currently reading? 
I am hyped up on Frankie Dupont! These are the two most recent books and will get me all caught up in the series.
Frankie Dupont and the Science Fair Sabotage is the third book in the Frankie Dupont series. I have read the first two and thoroughly enjoyed them, so why stop at two?
Frankie Dupont is less than impressed when he has to attend the Sustainable Science Fair with Kat and Amy. Upon his arrival, he learns that Amy's brothers have had their robotics chip stolen.
Keen to recover the chip, Frankie questions the kids in the competition, but everyone seems to have a motive.
When baffling clues start rolling in via "Snap-Goss" instant messages, Frankie realises it will take all of his detective muscles to solve this case.
An illustrated mystery for ages 8-12.
Frankie Dupont and the High Seas Heist is the fourth book in the series. Why stop when you've got a good thing going on?
Frankie Dupont seems to catch odd-ball cases in the most unlikely places. You would think he would be used to it by now.
When his next case lands him on a luxury cruise liner full of devious chocolatiers with ulterior motives, Frankie will be expected to solve the crime, even before it's committed.
Although his mind is certainly up for the challenge, Frankie realises his stomach is yet to find its sea legs.
If you would like to learn more about books 1 and 2 in the series, here are the links to my reviews:
Book 1 – Frankie Dupont and the Mystery of Enderby Manor
Book 2 – Frankie Dupont and the Lemon Festival Fiasco 
---
 What did you just finish reading?
I was pushing it this week, you guys. Why? Read my Sunday Post.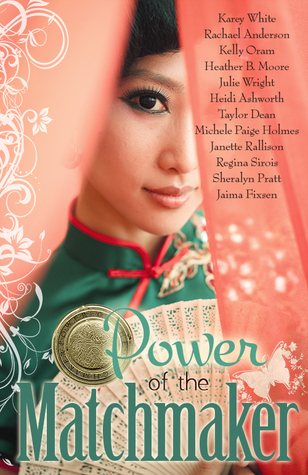 This was a short novella that seemed to cover a lot of ground for this character. It was very-well written with vivid descriptions and emotion.
Now I am more intrigued than ever! Does this new series written by a multitude of authors follow Mae from the beginning to the end of her life? Does it cover some of the best of her matches? I am dying to know!
Power of the Matchmaker, opens up a new series that follows one recurring character – the match maker – that is written by various writers. There will be a new book published each month next year. However, each book can be read as a stand-alone novel. You can find out more about the first book in the series, Broken Things to Mend, here.
Eclair Goes Geocaching is the third installation in the Eclair series.
The first book is Eclair Goes to Stella's. The second is Eclair Meets a Gypsy. Somehow I missed out on the second book, but it seems Eclair has grown up a little bit!  She definitely looks older on the cover.
You can read my review of Eclair Goes to Stella's here.
When seven-year-old Éclair goes geocaching for the first time, she finds a treasure that isn't the one she imagined.
Young readers will discover what geocaching is all about through Éclair's journey with her eccentric grandma.
---
 What do you think you'll read next?
I think I'm going to go ahead and for-go the remainder of December and dedicate it to my January tour reviews. I have at least three that are close together, and I want to go ahead and get a jump-start on that. I suppose this year I am skipping really reading any Christmas reads!
The first book for review in January is the third in Ellie Alexander's Bakeshop Mysteries series, On Thin Icing. I have read the previous books in the series and love the MC, Jules. Recently I also won the first two books and other goodies from the author in a giveaway! Unfortunately, it didn't include the third book.
If you would like to learn more about books 1 and 2 in the series, here are the links to my reviews:
Book 1 – Meet Your Baker
Book 2 – A Batter of Life and Death
Welcome to Torte-a small-town family bakeshop where the treats are killer good.
It's the dead of winter in the sleepy town of Ashland, which means no tourists-and fewer customers-for Jules Capshaw and her bakery. But when she's asked to cater an off-season retreat for the directors of the Oregon Shakespeare Festival, business starts heating up…until Jules finds a dead body in the freezer.
Someone at the retreat has apparently iced the bartender, a well-known flirt with a legendary temper-that is, before a killer beat him to the punch. Then, from out of nowhere, Jules's own ex-husband shows up at the shop-and soon becomes a suspect. With accusations piling up higher than the snow-and thicker than a chocolate mousse cake-Jules has to think outside the (recipe) box to find the real culprit…and make sure he gets his just desserts.
---
 How about you? What are you reading this week?
Leave a comment with your answers! Share the link to your WWW Wednesday post OR leave your answers in the comments if you don't have a blog. Happy Reading! 🙂