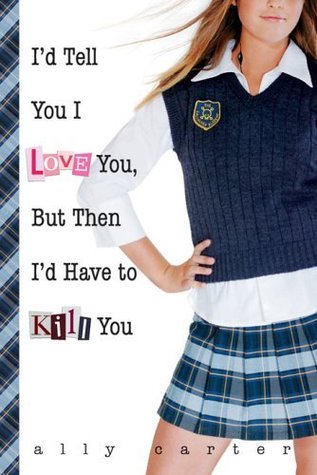 Title: I'd Tell You I Love You, But Then I'd Have to Kill You
Author: Ally Carter
Publisher: Disney-Hyperion
Release Date: April 2006
Length: 284 pages
Series?: Gallagher Girls #1
Genre: MG, YA

Find the book: Goodreads | Amazon
Cammie Morgan is a student at the Gallagher Academy for Exceptional Young Women, a fairly typical all-girls school-that is, if every school taught advanced martial arts in PE and the latest in chemical warfare in science, and students received extra credit for breaking CIA codes in computer class. The Gallagher Academy might claim to be a school for geniuses but it's really a school for spies. Even though Cammie is fluent in fourteen languages and capable of killing a man in seven different ways, she has no idea what to do when she meets an ordinary boy who thinks she's an ordinary girl. Sure, she can tap his phone, hack into his computer, or track him through town with the skill of a real "pavement artist"-but can she maneuver a relationship with someone who can never know the truth about her?
Cammie Morgan may be an elite spy-in-training, but in her sophomore year, she's on her most dangerous mission-falling in love.
***** Review *****
The Skinny
Cammie is a Gallagher Girl, a sophomore at the all-girls Gallagher Academy. There's just one thing about Gallagher: it's a school for spies. Cammie and her friends are well-versed in covert ops, reconnaissance, languages, devices, and even murder. But no training at Gallagher can prepare Cammie for conversing in ordinary girl language with a boy. Yeah, she hacks into his phone and computer and tracks him around town, but she is lost when it comes to navigating the normalcy of a relationship. And there's no way she can tell him the truth about who she is!
The Players
Cammie – MC, alias: the  Chameleon; nervous about revealing who she is to Josh
Liz – roommate and friend with Cammie
Macey – roommate and friend with Cammie
Josh – Cammie's love interest; hangs out with the jerk Dillon
"Bex"  – roommate and friend with Cammie
First Impressions
This was an audiobook I downloaded last summer, and Ally Carter came to visit my school this past year to promote her book All Fall Down, so I was interested in reading this older work of hers. I knew it was targeting the younger end of the MG/YA population, and it looked like it would be funny and light.
Second Thoughts
The book was quite humorous and a light read for the most part. It did remind me of The Princess Diaries. It is a cute read that made me giggle and snort as I listened. I will say that the language and thought processes of the characters is very teenish – exactly as it should be to fit the characters and the demographics population – and what gives the book much of it's humor.
Cammie is second-generation GG (Gallagher Girl), and her mother is now the headmistress. Liz and Bex are geniuses, a couple of the best spies, and Cammie's best friends and roommates. Most of the GGs have interesting backgrounds, although they were only barely touched upon in this first installment. I believe Carter is laying the foundation for the remainder of the series.
Despite Gallagher Academy being touted as such a prestigious boarding school to the outside world, Cammie has spent nearly all her life within the walls of the academy. Just like in Harry Potter, the GGs aren't allowed to venture outside of the academy unless they have permission. The outside world doesn't know much about Gallagher Academy. Most assume it is an expensive private boarding school for little rich girls…and they treat them as such. I thought that was very unfair, and this attitude is seen in the book.
Cammie doesn't really know anyone who isn't a spy or attending/teaching at Gallagher, so she is curious about how it feels to be a normal, ordinary girl. Her dad isn't around, and she doesn't have a close relationship with her mother, who is busy running the academy.
The new school year is starting, and the girls are excited about their new Covert Ops teacher, Joe Solomon. Mr. Solomon intrigues Cammie because he seems to know all about Cammie's MIA father. Then they find out they are also rooming with the new girl, who is forced to attend Gallagher. That throws a slight kink in their sophomore plans, but then Cammie is assigned to follow a staff member from the academy. On her mission, Cammie runs into Josh. She likes him, and her friends all know it.
Cammie is very good at blending in, which is how she got the nickname "The Chameleon." But with Josh it's different. He sees past the facade and truly sees Cammie. In what possible world could she tell him the truth – that she could knock him to the pavement in a multitude of ways and kill him with a string of spaghetti? She can't reveal who and what she is, or what the Gallagher Academy actually teaches, but she wants to spill her guts to Josh.
Enlisting her friends this new boy assignment, Bex and Liz begin an exclusive investigation. They need to know he's not crazy. Or worse, that he has a record! As they delve deeper and uncover the ordinariness of Josh, Cammie falls even harder for him.
Cammie is teetering on the verge and finds herself entangled in a web of lies. Cammie struggles with balancing being a spy and just a girl falling in love. Not to mention her mother!
Unfortunately for Cammie, someone catches on to her lies. How can she explain this to Josh?
***** About the Author *****
I was born and raised in Oklahoma.  My mother was a teacher and my father a farmer and rancher.  I have one older sister.
In high school, I was very active in a number of student organizations and graduated as co-valedictorian of my senior class.  I then attended Oklahoma State University and Cornell University and worked for several years in the agricultural industry before writing full-time.
In January 2013 I published the cross-over novella Double-Crossed that features characters from both the Gallagher Girls and Heist Society. It is available for free at spiesandthieves.com and wherever ebooks are sold.
I am one of the luckiest people in the world, and today, I'm able to do the job I wanted to do when I was a kid, and I am back living in Oklahoma.