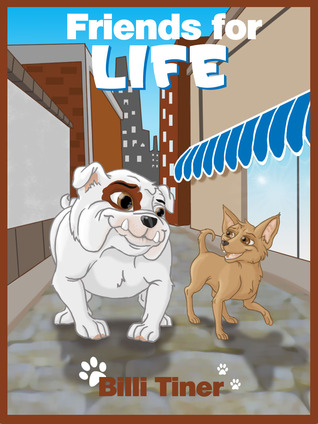 Title: Friends for Life
Author: Billi Tiner
Publisher: Createspace
Release Date: May 2012
Length: 162 pages
Series?: no
Genre: Children's, MG

Find the book: Goodreads | Amazon 
Bo and Rico are two puppies who meet at a pet store. The puppies are dognapped from the pet store by two goons. Realizing they are in danger, Bo and Rico must work together to escape the dognappers. After their escape, Bo and Rico find themselves scared and alone on the mean city streets. They are rescued by a streetwise stray named Tank. Tank takes the puppies under his wing and teaches them how to survive on the streets. Bo and Rico embark on several adventures including avoiding the local Animal Control officer, Jimmy; several run-ins with a pack of dogs led by a stray named Mongrel; and rescuing a beautiful lost Poodle named Pearl. Through it all, Bo and Rico form an incredible friendship that will last a lifetime. 
***** Review *****
This is a heartwarming story about friendship and loyalty, of course, from none other than man's best friend! Bo is a purebred bulldog pup who has lived with his owners until they decide to sell him through the pet shop. After arriving, Bo is confused and Rico the Chihuahua becomes his friend. They bond and grow even closer after two goons kidnap them from the store!
Bo and Rico put their brains, brawn and paws together to escape from the dognappers, but they soon learn their fate on the street is perhaps worse that it was with their dognappers. The streets of the city are cold, hard and mean. They run into a fair share of dangerous situations, until they get rescued by a very street savvy stray. Tank has been around the block before and he knows Bo and Rico are good pups, so he takes them under his wing.
As Bo and Rico survive day by day on the streets, their friendship grows steadily. They are inseparable and always work to protect one another. They have a myriad of adventures, the scariest of which are avoiding the Animal Control officer Jimmy and some run-ins with Mongrel's pack of strays. They also rescue a lost Poodle, Pearl, and help her find her way back home.
The book contains all the elements that are appealing and engaging to younger readers. Although it's marketed as a children's book, I'd really categorize it as a MG book because it is a chapter book of length, and the vocabulary is a little higher than what would be found in a children's book.
***** About the Author *****
Dr. Billi Tiner is a veterinarian who lives with her husband and two children in Missouri. Dr. Tiner loves animals and has three dogs and three cats of her own.
Find the author: Website | Facebook | Twitter | Goodreads