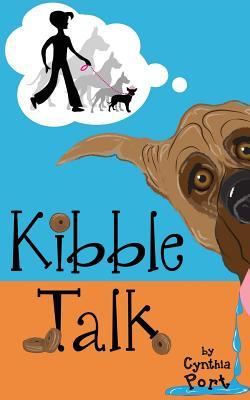 Title: Kibble Talk
Author: Cynthia Port
Publisher: Publishing Inspiration
Release Date: December 2013
Length: 214 pages
Series?: Kibble Talk #1
Genre: Middle Grades

Find the book: Goodreads | Amazon 
On a dare from her best friend, nine-year-old Tawny gags down a piece of dog kibble. Suddenly she can hear and talk to dogs, including her own dog, an enormous and demanding Great Dane named Dinky. Dinky explains to Tawny that his fondest wish is to be a tiny lap dog and Tawny promises to help him become one. From helicopters to the five o'clock news, Tawny soon finds out what it means to make a promise to a friend. Along the way, her parents can't help but question her sanity and her best friend Jenny turns into her worst enemy. If Tawny can just keep her own thoughts straight, maybe she can make things right in her family, get her best friend back, and decide for herself how she will handle having such a special gift. Kibble Talk, the first in the Kibble Talk series, is a funny and fast moving fiction story perfect for readers aged 7 to 12, or as a read-a-loud.
***** Review *****
Tawny is an only child, and her parents are very different. Her mother is more like the stay-at-home crafty supermom, and her dad is a biking enthusiast. However, between the three of them they don't really connect well all the time…Tawny finds out.
One night at a sleepover, Tawny's BFF dares her to eat dogfood. You can't back down from a dare, so Tawny does it. And something strange happens. She can hear dogs. She can talk to them, and they understand her. Her own dog, Dinky, has the personality of a sparkly princess lap dog, but Tawny doesn't realize Dinky's desires until the doggie kibble bonds them together.
Tawny is dedicated to helping Dinky achieve his goal, and in the process she ends up being on her BFF's hit list. Tawny's also put in the mix between her parents, and Dinky reveals some very telling information about both of her parents and the feelings they keep hidden.
I enjoyed this book immensely. I was giggling constantly and did not want to put down my copy. It is an excellent read for middle grades aged children.