This is a weekly meme hosted by MizB @ Should Be Reading. To join in, click on the image above, and answer these three questions: 
What are you currently reading? 
I'm on a bit of a short deadline with this review book. I know I'll get it done, but it will throw off my reading schedule…but I didn't want to pass on it, either. Isn't that the world we bloggers live in? 🙂
This book reminds me a bit of National Treasure, which I loved, so I'm looking forward to the adventure.
The last place Rosalina expected the clue to a 700-year-old mystery to lead her was back into the arms of Archer, the man who broke her heart. When neither can solve the puzzle without the other, they set off on a new adventure. They're forced to ignore the sparks that still fly unhindered between them as their search for the golden riches weaves from Tuscany's underbelly to Archer's luxurious yacht in the Greek Islands.  
What did you just finish reading?
I finished reading Robin's Reward. For a while I was worried because the book took a very exaggerated turn toward religion, which I've expressed before that I do not like. However, it was mild and very blasé and didn't really rub me wrong. It wasn't blatant and it wasn't written with an undermining agenda to steer readers into faith.
I enjoyed seeing the journey Robin and Jeff took throughout the book, and how particular members of the town helped them resolve all of the drama.
In one 24-hour period I also finished MOLLY LEE, Andrew Joyce's sequel to REDEMPTION.
This book picks up where Huck Finn and Tom Sawyer, masquerading as a Confederate lieutenant and captain, respectively, left behind Molly Lee after saving her family from Union soldiers intent on plundering.
Not for one minute did I have pause to regroup. Just like Redemption, Molly Lee is fast-paced. I was so intrigued that there were a few times that Molly ended up in the same places Huck had been and learned of his exploits. I was also incredibly blown away by the amount of money that Molly comes into and loses over and over again through her ventures. I can't imagine that much money during the Civil War time.
What do you think you'll read next?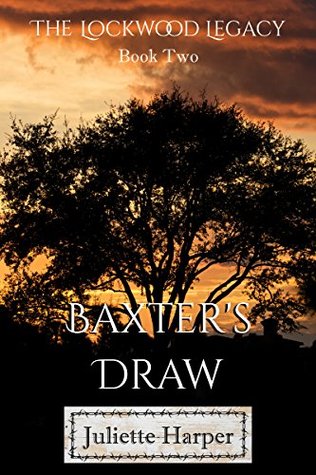 The next thing on my list is Baxter's Draw, the sequel to Langston's Daughters in The Lockwood Legacy series. Langston's Daughters was all about how Langston's three daughters did not believe he had committed suicide – something was just not right – and how they set out to prove it.
I'm looking forward to reading Baxter's Draw. I'm not sure what all is in store for me, but I am very intrigued by The Lockwood Legacy!
How about you? What are you reading this week?
Leave a comment with your answers! Share your answers in the comments if you don't have a blog OR the link to your WWW Wednesdays post. Happy Reading! 🙂