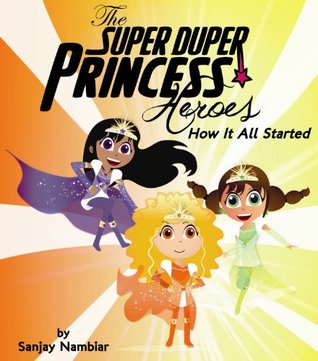 Title: The Super Duper Princess Heroes: How It All Started
Author: Sanjay Nambiar
Publisher: Umiya Publishing
Release Date: August 2013
Length: 32 pages
Ages?: 3-9
Genre: Children's Literature

Find the book: Goodreads | Amazon
When Kinney, Oceana, and Sammie stumble upon a mysterious bag with magical tiaras inside, their lives change forever. They transform from regular girls into Super Duper Princess Heroes! Their new powers, however, come with strings attached. To keep the magic going, the girls need to help others, to work together as a team, and to always be humble about their abilities. Can these awesome girls rise to the challenge and help save the world? Can they prove that princesses are about courage and independence instead of just fancy dresses and glittering jewelry? You better believe they can! "The Super Duper Princess Heroes: How It All Started" is an important book for several reasons. The story conveys positive messages to young girls (independence, strength, teamwork, responsibility) while maintaining a context of fun and adventure. In a marketplace flooded with princess" paradigms that are all about getting married and wearing fancy gowns, the Super Duper Princess Heroes delivers a refreshing perspective that can inspire girls to help change the world, instead of just waiting around to find their prince.
***** Review *****
 "You think just because we're princesses all we want to do is marry you?" 
I couldn't resist – that line made me laugh!
Girls in pretty dresses and tiaras aren't just out for marriage. Especially these three girls!
Kinney, Oceana and Sammie are regular girls out for adventure when they stumble upon a mysterious silver bag. They receive tiaras and glittery dresses.
Best of all, they each receive their very own super power!
The girls use their powers to help a fallen and injured prince, but they must work together to get him to safety.
The girls realize they have some incredibly amazing abilities, but they also know that they're new super powers come with responsibility.
A great book for teaching young ones about the differences they may see between themselves and others at daycare or school, and about being helpful, kind and humble.