This is a weekly meme hosted by MizB @ Should Be Reading. To join in, click on the image above, and answer these three questions: 
What are you currently reading?
Last week I talked about how I'm OCD when it comes to book series. Is anyone else my flavor of series readers, or is it just me? Anyway, I just got my fingers on H.B. Bolton's second book in the Relics of Mysticus series. This one's title has consonance: The Trickster's Totem. All three Ts. I don't have much to say except that Evan and Claire have returned in this book, and they are now "back to normal" at school, until a mysterious creature shows up. I'm holding out that this creature is the Dobie-like character from the first book. 🙂
What did you recently finish reading?
I just finished the first book in H.B. Bolton's Relics of Mysticus series, The Serpent's Ring.  This is a middle grades book, and it's recommended for those who liked the Percy Jackson series. I've never read the Percy Jackson series, but this book starts off like Night at the Museum meets Harry Potter (or rather, Dobie from Harry Potter – AND Voldemort's horcruxes!) meets Norse gods meets Little Mermaid meets fantasy land mash-up, all packed with adventure. It's a fast-paced read with a sibling duo that must work together to solve the central conflict in the book.
What do you think you'll read next?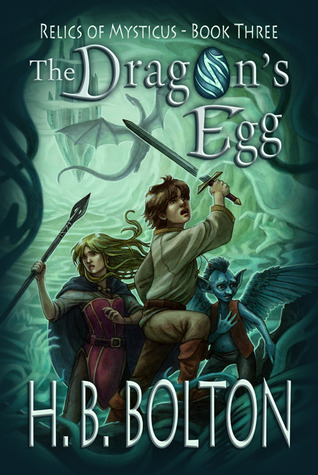 Most definitely on my list next is H.B. Bolton's most recent book in the Relics of Mysticus series, The Dragon's Egg. In this book, Evan must battle his own inner demons – his very own nightmares in the Dungeon of Dreadful Dreams while keeping a dragon at bay. Seems like a devious duo stole this dragon's egg, and now have a heist planned for Atlantis' very own Siren's Pearl. Evan and Claire traverse through Medieveal Legends, the Dungeon of Dreadful Dreams, Avalon and Atlantis.
How about you? Have you read any of these? What are you reading this week? Please leave a comment with either the link to your own WWW Wednesday post, or share your answers in the comments here (if you don't have a blog). Thanks! 🙂